Are you looking for the prettiest and silent beaches near Tallahassee for a day trip or weekend trip? We have you covered with our list of the best Tallahassee beaches to visit!
Tallahassee is the capital of Florida. Tallahassee is located just 22 miles from the Gulf of Mexico, which is home to some of the world's top beaches. With more than 1,600 miles of coastline and beautiful, sugar-white sand, there are plenty of options for residents looking for beaches near Tallahassee.
These Fabulous beaches are the perfect place to visit on the weekends or if you have time off during the week. Though, the city doesn't touch the ocean, there are fabulous beaches close-by to visit and enjoy.
Also Read: Top 10 Famous Beaches of North Goa
Below are a list of 8 of the Fabulous beaches in Tallahassee. 
St. Marks National Wildlife Refuge
St. George Island
Panama City Beach
Grayton Beach State Park
Carrabelle Beach
Cape San Blas
Bald Point State Park
Destin
1. St. Marks National Wildlife Refuge
The famous beach is located south of Tallahassee. Ideal for fishing, boating, kayaking and camping. A popular and must-see attraction is the St. Marks Lighthouse which was constructed way back in 1832.
St. Marks National Wildlife Refuge is one of the United States' oldest wildlife refuges, originally established in 1931 as a protected wintering ground habitat for migratory bird species.
At this location, you will find a several tiny beach while most people come here for the lighthouse or to see wildlife there is a space reserved on a rocky beach for swimming the laying out on the Gulf Side.
2. St. George Island
It is the top beach destination for residents of Tallahassee. The island boasts of the most unspoiled, beautiful and serene beaches of the state. The island is famous for beachfront dining and a variety of quality restaurants.
Since Tallahassee is landlocked it takes about an hour and a half to reach the coast and St. George Island is one of the best beaches to visit for both a day trip to weekend get-a-way. Here you will find over 28 miles of coastline along this barrier island that is situated on the Gulf of Mexico.
The island's public beachfront is consistently ranked as one of the United States' best beaches.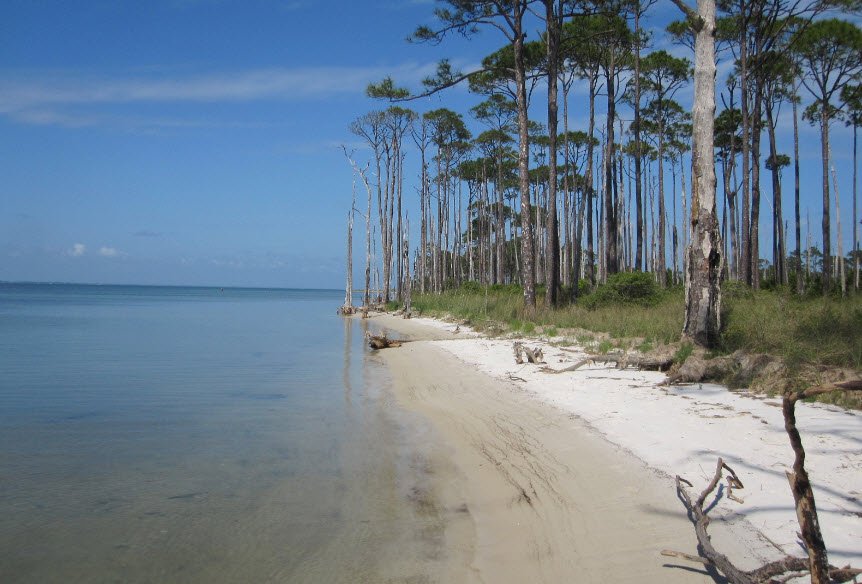 3. Panama City Beach
It is an attractive waterfront town located east of Tallahassee. The place is famous for long stretches of pretty white-sand beaches bordering the calm and clear waters of the Gulf of Mexico. Offers ideal conditions for swimming and water-sports including parasailing and diving.
While Panama City Beach might be well known for the beach that college spring breakers head to it is also a very family friendly beach with the sugary white sand and warm turquoise Gulf Waters. From playgrounds and amusement parks nearby it the perfect family friendly beach near Tallahassee.
There are a ton of good restaurants as Panama City Beach is known as the seafood capital of the south.
4. Grayton Beach State Park
It is only a 2.5 hours drive from Tallahassee. Grayton beach frequently features among the most pretty and pristine beaches in the country. Popular activities on this beach include kayaking, canoeing and swimming.
Grayton Beach is located inside of Grayton Beach State Park and costs $5 to enter per car! This beach is one of the prettiest beaches to visit! You'll find small beach towns like Seaside, Sandestin, Alys and Rosemary beaches near to Grayton Beach State Park!
5. Carrabelle Beach
The breathtaking white sand beach is situated to the west of Carrabelle city and not far from Tallahassee. It offers convenient parking, as well as nature at its finest. Enjoy the mesmerizing sunrises and sunsets here. Located to the east of Apalachicola on the Gulf in the village of Carrabelle you will find a beach with a cape cod vibe. You will see the lighthouse called the Crooked River Lighthouse before seeing the beach.
A bathroom nearby provides some comfort if nature calls which is free and open to public.
6. Cape San Blas
Enjoy the pristine white sand beaches here. Dine on delicious seafood or indulge in kayaking, boating or fishing. The long stretches of beautiful white sands draw attention of sunbathers and swimmers. A must-see is the Cape San Blas Lighthouse.
This is the best beach near Tallahassee if looking to get away in one of the most unpopulated areas just 20 minutes from Port Joe. Families flock to Cape San Blas on the Gulf for a get-a-way to unplug and experience nature without any crowds. Which is surprising because Cape San Blas has been voted on the best beaches by Dr. Beach himself!
7. Bald Point State Park
The location is only half hour drive from Tallahassee. The shallow waters of the Gulf of Mexico offer ideal conditions for swimming and fishing. Some folks prefer to relax and soak up the glorious sunshine. In summer, windsurfing and kayaking are popular.
Bald Point is located on Alligator point which connects two bays called Ochlockonee and Apalachee. There are two beaches to visit on Apalachee Bay! If you are looking for wildlife viewing while on the beach this is the place to head to. There is a fishing dock and restrooms and picnic tables for beach goers.
8. Destin
The city of Destin offers picturesque white beaches and is an internationally known fishing destination. Its sobriquet is 'the world's luckiest fishing village'. The seafood served here is delicious and the sunset views simply breathtaking. The beaches are also home to top luxury resorts.
When you visit, we advise avoiding the peak hours of visitation from 10 AM – 3 PM. Arriving early or later in the day is the perfect way to nab a great spot on the beach to soak up the sun!
You may also like: