A breathtaking coastline with a series of lovely beaches, North Goa is a sunseeker's paradise. The busy strip stretching from Candolim all the way to Arambol features a string of enduringly popular places to eat, lively bars, yoga retreats, an eclectic flea market, a vibrant night bazaar and exciting watersport options.
Also Read: Top 9 Honeymoon Destination Places in India
Away from the sands, fascinating museums such as the Museum of Goa and the picturesque villages of Siolim and Assagao await exploration. It's little wonder that North Goa is a firm favourite with visitors.
Vagator Beach
Candolim Beach
Calangute Beach
Mandrem Beach
Morjim Beach
Anjuna Beach
Baga Beach
Ashvem Beach
Arambol Beach
Querim Beach
1. Vagator Beach
Beautiful Vagator's crescent-shaped bay is known for its small coves. The main beach is split into Big and Little Vagator by a seaside headland. To the south is Ozran or Little Vagator, accessible by a steep path, which attracts partygoers in the evening. Its defining feature is the rock carving of Lord Shiva's face.
2. Candolim Beach
Bustling Candolim is usually the first stop for many before exploring the string of beaches along the north coast. Visitors can choose to unwind under parasols with a picnic basket or sample delicious food at the beach shacks. Water-skiing and parasailing are just some of the activities on offer here.
3. Calangute Beach
Every year thousands of sunseekers from all over throng the sands of Goa's most famous beach, Calangute. Packed with restaurant shacks, nightclubs, shopping and accommodation options, there is a little bit of something for everyone here. It is also known for watersports.
4. Mandrem Beach
A quiet fishing village with a beautiful location and a glorious beach, Mandrem's relaxed ambience is ideal for solitude-seekers. Small wooden bridges help visitors to cross a narrow creek that runs parallel to the coastline, and connects to the beach shacks, which line the shore.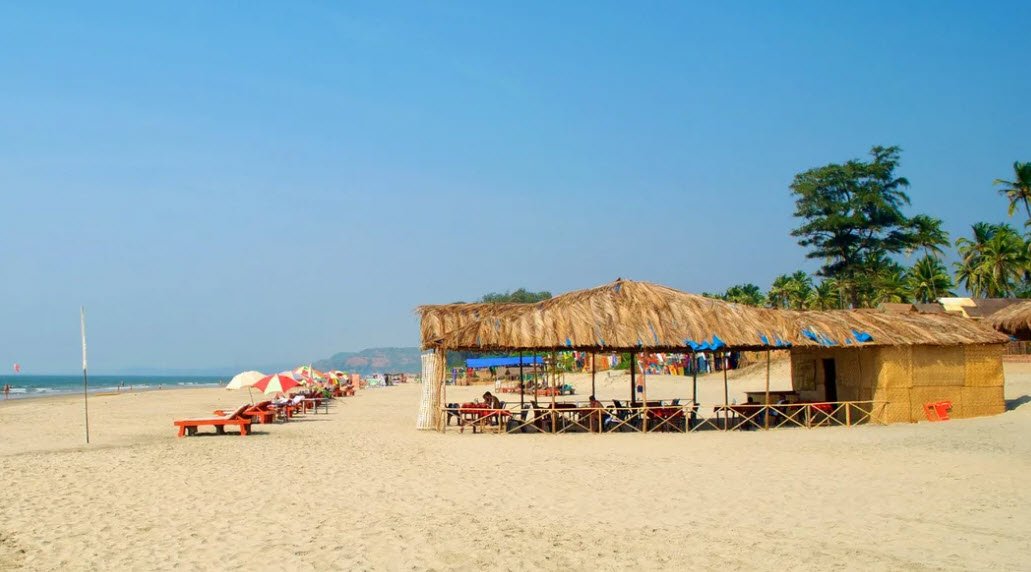 5. Morjim Beach
Secluded Morjim is a nesting site for Olive Ridley turtles. Sadly, sightings of the turtles even in the nesting season – between November and February – have become increasingly rare. The spot at the beach's southern end is great for birdwatching.
6. Anjuna Beach
Backed by swaying palms and low, rocky hills, Anjuna has been a favoured vacation spot since the 1960s. In the evening, many places host parties with international DJs spinning everything from techno and hip-hop to current trance favourites. The crowds swell on Wednesdays during the flea market, which is a good place for souvenir shopping.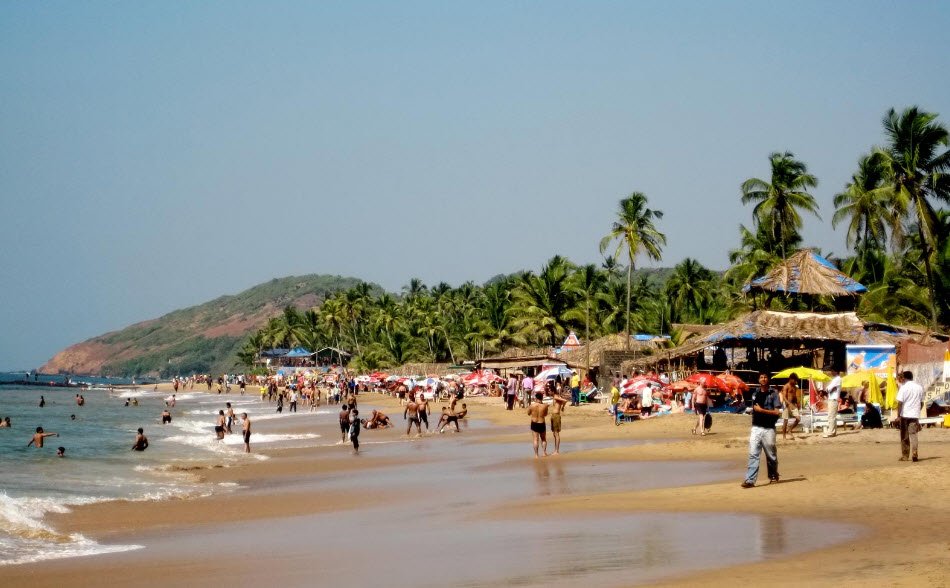 7. Baga Beach
An extension of Calangute, Baga is among the busiest beaches in North Goa. It is enduringly popular with watersport enthusiasts who can indulge in a wide range of activities such as jet-skiing, banana boat rides and water-skiing here. Baga's shores are populated with trendy eateries and bars, while its night-life is legendary due to the well-known Club Tito's.
8. Ashvem Beach
Goa's current hot spot, Ashvem has become the place to soak up the sun, sand and surf. Its serene waters, eclectic beach shack restaurants, chic beachfront clubs and boutiques have made it the choice of celebrities. It is also known as one of the best spots to swim, dine and dance.
9. Arambol Beach
Lively Arambol has a freshwater lagoon that is fed by hot springs and is perfect for swimming. It is popular with those seeking active outdoor recreation and holistic therapies such as yoga and reiki, and is also known for its vibrant nightlife.
10. Querim Beach
Tucked away at the northernmost tip of Goa far from the buzz of other beaches, gorgeous Querim (or Keri) is the ultimate hideaway. With its empty stretches of soft sand and clear waters it is the ideal place for sunbathing and swimming.
Yoga Retreats in North Goa
Ashiyana Yoga Centre – This riverside tropical retreat offers a long list of yoga courses from October to April. The on-site accommodation features heritage rooms and huts.
Brahmani Yoga Centre – Established in 2003 by Julie Martin, who initiated Brahmani Yoga, this is an internationally acclaimed yoga centre. It offers drop-in yoga classes that are conducted by expert teachers.
Himalaya Yoga Valley – India's premier yoga education centre offers training courses for both beginners as well as seasoned practitioners.
Satsanga Retreat – This retreat describes itself as a "home away from home". It offers training as well as workshops for yoga teachers.
Purple Valley Centre – A tranquil yoga shala, Purple Valley offers accommodation that ranges from simple cottages, to luxurious houses. Healthy meals are served on the terrace.
Yoga Magic – Experience Ayurvedic massages and healing therapies at this luxurious eco-friendly yoga retreat.
Oceanic Yoga – The founder of this centre, Yogi Abhay, has meticulously finetuned the training courses to teach the practical and theoretical aspects of yoga.
Swan Yoga Retreat – Set in a peaceful corner of Assagao, this retreat offers a Zen yoga experience in the satyananda and hatha tradition. Accommodation and meals are provided for week-long stays.
Raso Vai Ayurovedic Centre – Several ayurvedic treatments are offered at this popular centre, especially shirodhara and pottali that are known to be deeply relaxing, energizing and rejuvenating therapies.
Himalayan Iyengar Yoga Centre – Founded in 1985 by Anand Sagar, this centre offers a number of yoga and meditation courses, including yoga for kids.
Places to Shop in North Goa
Anjuna Flea Market – A riot of colours, stalls and goods greet shoppers at this overwhelmingly popular market.
Arpora Saturday Night Bazaar – Shop for trinkets, sample local food and enjoy live music at this fun night bazaar.
Le Souk by Amarya – Goa's first luxury market is open every day. It focuses on clothing by top national and international designers.
Artjuna – This trendy boutique has a Mediterranean café. It stocks women's clothing, accessories and homeware.
People Tree – Set in quiet Assagao, this art and design studio specializes in handcrafted clothing and accessories.
The Attic – A stylish, contemporary gallery, The Attic features exquisite vintage furniture and intricate glassware.
Mapusa Market – Vibrant and bustling, Mapusa's market offers antiques, handicrafts, textiles and spices. Bargain hard for the best price.
Cheshire Cat Gallery – Housed in a beautifully restored Portuguese villa, this store owned by Kees van Andel and Karen Peace features an eclectic collection of jewellery, fashion and art. It also offers prints by local and international designers.
Literati – Set in the midst of a large garden is a treasure trove of books. This 100-year old bookshop has a lovely reading room and a café.
Paper Boat Collective – This concept store is an ideal place to shop for latest items exclusively created by Indian designers.
Nightlife in North Goa
Showbar Exchange – This vintage retro pub follows the concept of a liquor stock exchange where prices for alcohol fluctuate according to demand.
Hill Top – Goa's iconic party destination, Hill Top attracts visitors from across the globe.
Club Tito's – One of the first clubs to open in Goa, this spot has achieved legendary status.
Shiva Valley – Known for its psychedelic parties, Shiva Valley is popular for its cutting-edge music.
Chronicle – Set on a clifftop, Chronicle has an outdoor dance floor. There's a cocktail bar and lounge as well.
Sinq Night Club – An upbeat and trendy club which offers great entertainment.
SOMA Project – Set in the most isolated part of Ashvem Beach, this nightspot can rival the beach clubs of Ibiza.
Club Cubana – This neon-lit nightclub hosts some of the most happening parties.
Cohiba – Close to the Aguada Fort Lighthouse, this club has a welcoming vibe. The foot-stomping music is great.
Cape Town Café – Hosting international DJs, this place entertains its guests well. Watch live sporting events on its LCD screens.
Places To Eat in North Goa
Bomra's – This award-winning Burmese restaurant is known for its mouthwatering fare.
Morgan's Place – The menu at this Alice In Wonderland themed restaurant has a mix of everything from Italian delicacies to German delights.
Sublime – A picturesque beachside restaurant, Sublime offers a blend of Asian and Goan cuisine.
A Reverie – This gourmet restaurant offers innovative cooking alongside an extravagant ambience. The menu features an extensive wine list.
Sakana – Known for their hearty breakfasts, Sakana offers fresh croissants and baked apple pie.
Infantaria – With a nostalgic air, Infantaria has a menu offering perfect breakfasts. Try their desserts.
Baba Au Rhum – With an eco friendly decor, this cosy café-bakery serves excellent teas and Vietnamese coffees.
Café Nu – Charming restaurant located in a pretty garden offers light gourmet bites.
Calamari – Serving the best calamari in Goa, this beachfront restaurant also has live music. The seafood options are great.
Thalassa – With outdoor tables shaded by palm trees, Thalassa offers authentic Greek cuisine as well as picturesque views of the sea.
Related Useful Articles: