Well, there are hundreds of romantic tourist destinations or honeymoon spots in India. India has all kinds of nature where there is a desert on one side and high mountains on the other. On one side where the Himalayas stand, on the other hand the sea is waving.
Here you will find everything. Come let's know brief information about 10 top romantic places among them. Before going here, you must read the Covid-19 guidelines thoroughly.
1. Goa
Goa, situated on the shores of the sea, attracts a lot of tourists as well as honeymooners from the abroad. It is considered at the top of the romantic destinations. Goa is a state in India where there are cultural sites, museums, collections of archaeological importance, besides Panaji, Vasco da Gama, Margao, Ponda, Old Goa, Vagator, Benaulim, Dudhsagar waterfalls to see.
Apart from this, the Aguada Fort of Goa is also one of the major places of interest. The beaches of Goa are particularly famous Anjuna Beach, Arambol Beach, Colva Beach, Baga Beach, Bogmalo Beach, Calangute Beach, Colva Beach, Dona Paula Beach, Miramar Beach, Palolem Beach and Varca Beach are the places to see here. You can easily reach Goa from any part of the India.
2. Kerala
The Indian state of Kerala has been beautifully decorated by nature, so Kerala is the most suitable place for honeymoon. High mountains, splendid sea shore, boat ride through the clumps of coconut and palm trees, greenery around and very beautiful views, all these are the real hallmarks of the beauty of Kerala.
It is natural for loving hearts to increase in these romantic scenes. If you have a special affinity for sea shores, then the Kovalam Beach, Varkala Beach, Marari Beach, Kannur, Bekal Beach and Cherai Beach present here will be right for you. If you want to enjoy a hill station , then you can choose any of the beautiful hilly areas in Kerala like Munnar, Peerumedu, Idukki, Lakadi, Devikulam.
3. Andaman and Nicobar Islands
It is a union territory of India. Its capital is Port Blair. If you have a special love for nature and water, then Andaman and Nicobar Island will be right place for you. The Andaman and Nicobar Islands, located in the Bay of Bengal and bordering the Indian Ocean, are actually a large group of more than 300 beautiful islands, where emeralds and coral reefs are also present.
Beautiful white sand beaches, with tall coconut trees lined by the water's edge, looks quite attractive. Ross Island, Cellular Jail, Radhanagar Beach, Makruzz, Barren Island Volcano, Jolly Buoy Island, Mahatma Gandhi Marine National Park, Chidiya Tapu, Bharatpur Beach, Laxmanpur Beach, Elephant Beach and Samudrika Marine Museum etc. are considered to be the center of special attraction of the tourists. The clear water of the vast sea away from the crowd of people will definitely attracts you to come here. Not only this, you can also enjoy sun bath, water sports and beat seafood here.
4. Lakshadweep
The 32 km long land is divided into more than 36 small island islands, which are called Lakshadweep. The main beaches of Lakshadweep famous for pollution free air, clean water and hospitality and convenience are Kavaratti Beach, Minicoy Beach, Agatti Beach, Kalpeni Beach, Kadmat Beach, Bangaram Beach, Kiltan Beach, Amini Beach.
Along with seeing beautiful coconut trees, long lagoons, special swimming places, many types of corals, hawk bill turtles, blue lagoons, clear waters, colorful fishes, corals, swinging palm trees on these long wide beaches. One can enjoy scuba diving, sea driving, snow kayaking, wind surfing, parasailing, scuba diving, water skiing, snow sailing and kayaking in glass bottom boats. If you want, you can also see marine life in the new marine aquarium built here. You can easily reach here by ship or plane from Kochi, Kerala.
5. Daman and Diu
It is also on top of romantic destinations. Daman and Diu are a group of islands located in the Arabian Sea near Junagadh in Gujarat and Mumbai in Maharashtra. The capital here is Silvassa which is a town on the Daman Ganga river in western India, bordering the state of Gujarat. Daman experiences pleasant weather throughout the year. Daman has all kinds of facilities and arrangements for the tourists to stay and walk.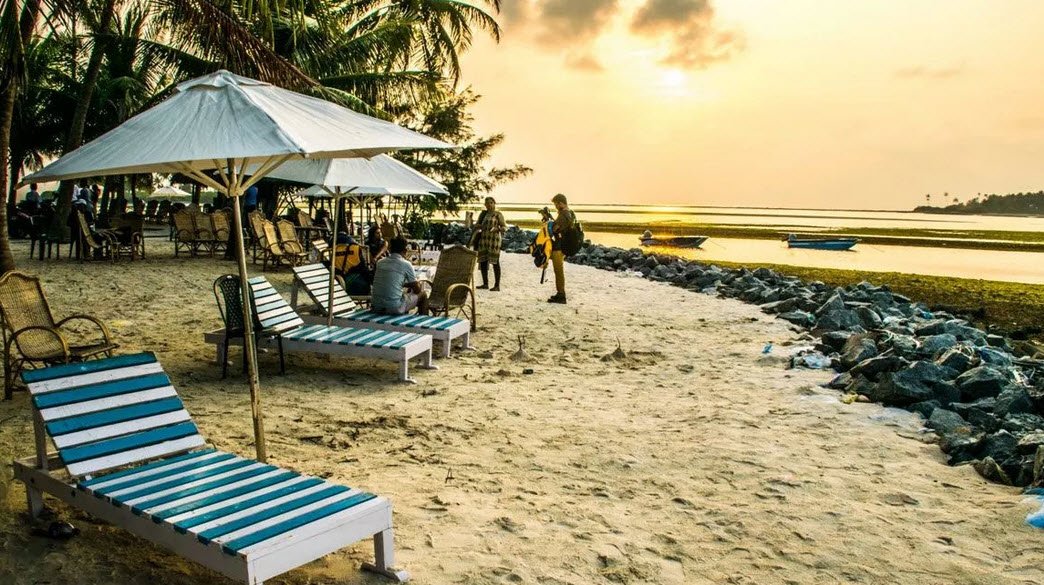 Jampore Beach, Devka Beach, Vanakbara Beach, Ghoghla Beach, Nagoa Beach, Tithal Beach, Jallandhar Beach, Chakratirth Beach, Udvada Beach and Gomatimata Beach are the most famous beaches in Daman and Diu. There is a beautiful and safe amusement park for tourists with pleasant weather and a huge Daman Ganga river. This river divides Daman into two parts – Nani Daman (Little Daman) and Moti Daman (Big Daman). The Portuguese built grand churches by converting the Hindus here, in which the most famous church is the Cathedral Bom Jesus. There are many such churches in Moti Daman.
6. Darjeeling
Known as the 'Queen of Hills', Darjeeling has always been a great honeymoon destination. The biggest feature of this hill station, once a part of Sikkim, is the tea gardens here. Green tea fields spread far and wide as if a green sheet was spread on the earth. But the beauty of this magnificent hill station of West Bengal is not only its tea gardens, but the valleys here are also very beautiful.
Beautiful mountains covered with snow, pine forests, natural beauty, gurgling waterfalls captivate everyone's mind. Due to this beauty, it has been called the 'Queen of the Hills' and it is counted among the famous and beautiful hill stations around the world. The journey to Darjeeling starts from the famous toy train, which passes through the hills and beautiful plains. Tiger Hill is a famous place in Darjeeling which is located at a distance of about 13 kilometers from the city.
From here the wonderful view of sunrise is very beautiful. There is also Sanjay Gandhi Biological Park in Darjeeling, where many rare species of animals, animals and birds can be seen including Red Panda and Black Bear. Tourists can also enjoy seeing the Siberian tiger and the Tibetan wolf here. Darjeeling also has Rangeet Valley Passenger Ropeway, which is the first passenger ropeway in the country.
7. Srinagar of Kashmir
On the pretext of Srinagar, you can roam in the most beautiful state of India, Jammu and Kashmir. Where there is the cave of Amarnath, on the other hand beautiful mountains, lakes and tall trees covered with snow. Nestled in the Kashmir Valley, Srinagar is one of the major tourist destinations in India and has always been an ideal destination, especially for honeymooners.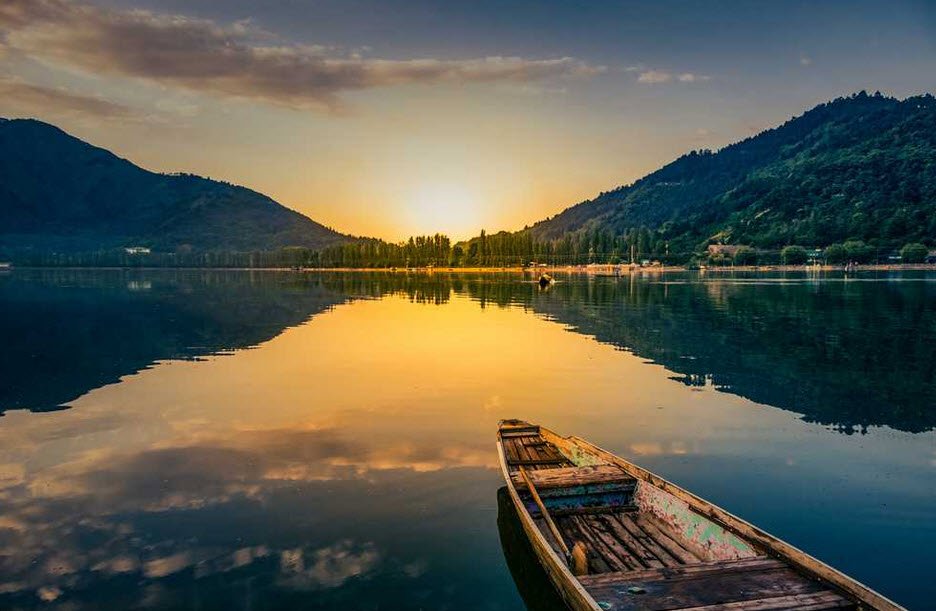 Situated at an altitude of 1700 meters, this city is especially known for its gardens, lakes and house boats. There are many beautiful boat houses floating on Dal Lake decorated with lotus flowers.
8. Ooty
The world famous city of Tamil Nadu, Ooty is the most suitable place for honeymoon. It is called the queen of mountains. Here the greenery, tea gardens, variety of vegetation spread far and wide will mesmerize you. Ooty consists of the Nilgiri mountain ranges. The panoramic view of the mountains, valleys and plateaus from the hill is a very beautiful experience. Here binoculars have been arranged to see them.
Avalanche Lake, Botanical Gardens, Deer Park, Doddabetta, Kalahatti Waterfalls, Kamraj Sagar Dam, Mudumalai & Mukurthi National Park, Needle View Hillpoint, Ooty Lake, Ooty Rose Garden, Ooty Toy Train, Parson's Valley, Pykara Waterfalls, Stone House Ooty, Toda Huts Ooty, Wax World Museum, Wenlock Downs, Ooty Thread Garden, Ooty Honeymoon Boat House, Emerald Dam Ooty, Vegetable Land Ooty, Pine Tree Forests Ooty, 6th Mile Ooty, Sim's Park Coonoor, Lamb's Rock Coonoor, Dolphin's Nose Coonoor, Rallia Dam Coonoor, Wellington Lake Coonoor, Laws Falls Coonoor, Droog Fort Coonoor, Lady Canning's Seat Coonoor, Second World War Memorial Pillar Coonoor, Kattery Park Coonoor, Hidden Valley Coonoor, Wellington Gymkhana Club Coonoor, Catherine Falls Coonoor, Ketti Valley Coonoor and St. George's Church Coonoor are worth seeing here.
If you stay for 1-2 days, then visiting the wildlife sanctuary will be a great experience for you.
9. Shimla and Manali
Shimla and Manali are the most famous places for honeymoon in Himachal Pradesh. Here one has a beautiful view of the valley and the peaks of the Himalayan mountains all around. Shimla is also known as the city of seven hills surrounded by lush greenery.
Manali is about 275 kms from Shimla. Seeing Manali surrounded by mountains from all sides, one experiences adventure and romance.
This is a great spot for the adventurous people. The visitors who come here stay in the local village and enjoy trekking, skiing and rafting here.
Let us know your thoughts in comments!