With its magnificent peaks and glacial valleys, it's no surprise that the Nepal Himalaya hosts some of the world's best trekking. The world's highest mountain range defines everything in Nepal, from its topography and development to its weather and religion.
Even after the devastating earthquakes of May and April 2015, most of Nepal's trekking routes are open for business, serving up the kind of views normally reserved for mountaineers.
Beyond the famous mountain views, Nepal's mountains are rivalled only by its people and its superb trek staff – porters, sherpas and guides.
Also Read: Top 9 Honeymoon Destination Places in India
Before to start the trip, below are some important things which you need to know:
Currency – Nepali rupee (Rs)
Language – Nepali
Visas – Tourist visas (15, 30 or 90 days) available on arrival; bring two photos and cash in US dollars.
Money – Easy to change cash and access ATMs in Kathmandu, Pokhara and other cities but almost impossible in rural areas or on treks.
Mobile Phones – Buy SIM cards at Kathmandu airport on arrival, or at Nepal Telecom (Namaste) or Ncell outlets across the country.
Time – Five hours and 45 minutes ahead of GMT.
Transport in Nepal is reasonably priced and accessible. Roads are often narrow, overcrowded and poorly maintained and delays should be expected. Remote treks are only accessible by flight.
Trekking in Nepal is logistically as easy as it gets, but it still requires some planning. It's possible to turn up in Kathmandu and set off on a teahouse trek two days later, but for more logistically complex treks booked through an agency you should allow a week.
Nepal's trekking trails have evolved from a dense network of Himalayan trade routes, pilgrim paths and herder's tracks, trod for generations by traders, porters, government officials and pilgrims, as well as countless pioneering trekkers and mountaineers.
Walking paths are central to the cultural history of the Himalaya and they remain vital today, as mountain people travel on foot for weddings, funerals, festivals, school or medical care. Trek in Nepal and you are walking in the footprints of the past.
Annapurna Circuit
Everest Base Camp
Mustang
Everest Three Passes
Annapurna Sanctuary
Inner Dolpo
Kanchenjunga
Around Manaslu
Phoksumdo Lake via Do Tarap
1. Annapurna Circuit
The Annapurna Circuit is one of the most popular trek in Nepal, offering more cultural variety and a clearer sense of journey than the Everest Base Camp trek but still offering amazing mountain views.
The trail follows the Marsyangdi Valley to some spectacular mountain views, high lakes, glacier viewpoints and Buddhist pilgrimage sites around Manang, before crossing the 5416m Thorung La high pass to Jomsom.
Road-building is nibbling away at the trail in sections but it remains without doubt one of the world's classic treks.
2. Everest Base Camp
Everest Base Camp trek is the people's number one on most wish list, a 16-day scenic tour de force that climbs through Sherpa villages and glacial valleys into unparalleled high mountain scenery.
You'll get the best views of the great peak from the hill of Kala Pattar, before visiting Everest Base Camp itself. What you will soon realise, however, is that Everest itself isn't all that impressive from this angle.
Far more stirring are the mountains you may not have heard of: Kantega, Ama Dablam and Pumori.
3. Mustang
One of the most remote but fastest-changing enclaves of Tibetan culture in Nepal is the kingdom of Mustang, a restricted area where a 10-day trek winds through arid, desert-like canyons to the fabled walled city of Lo Manthang.
The scenery in these areas is spectacular – white snow peaks, barren brown and yellow eroded cliffs, and red-walled gompas, all set against a cobalt-blue sky – but the real draws are the medieval-style villages and Tibetan monasteries.
For this area entry, you have to pay some permit fee which is around $100 USD.
4. Everest Three Passes
For the ultimate high-altitude Himalayan roller-coaster ride, head to the Everest region to try the challenging Three Passes trek.
It's a tough option, taking you over the region's three most spectacular trekking passes, each over 5000m.
The epic views of Makalu from the Kongma La and the panorama of glacial highway and turquoise lakes filling the Gokyo Valley from Gokyo Ri are perhaps the most impressive vistas nonclimbers will ever get.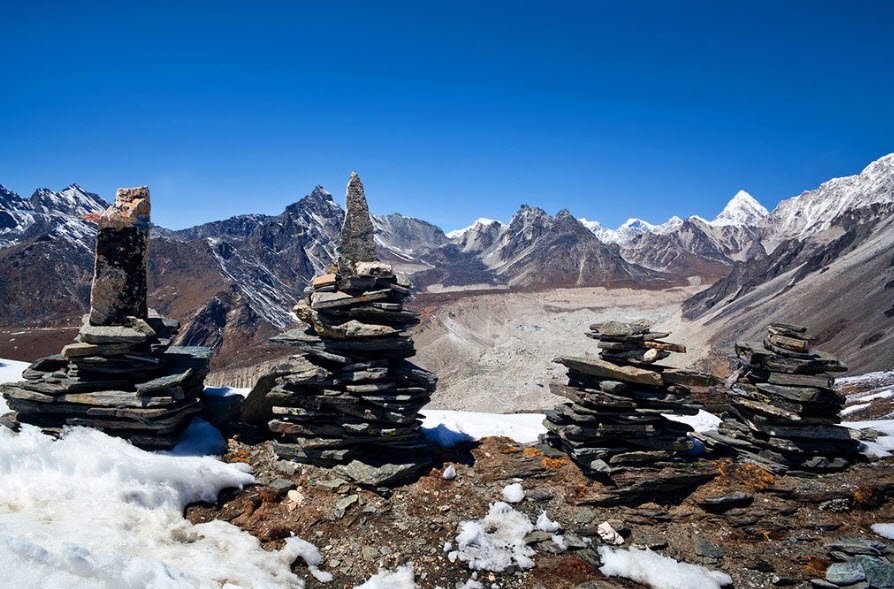 5. Annapurna Sanctuary
The Annapurna Sanctuary is a teahouse trek that gets you right into a high mountain amphitheatre, surrounded on three sides by the massive peaks of Annapurna, Hiunchuli, Fluted Peak and Machhapuchhare.
For a relatively short trek (10 days) it packs an incredible scenic punch as well as amazing diversity, journeying from rhododendron forests and bamboo groves up to glacial moraines. The teahouses are excellent and the Gurung village of Ghandruk is one of the region's nicest.
Come prepared to climb plenty of stone steps.
6. Inner Dolpo
For something even more remote, Tibetophiles should head to Dolpo , known among trekking aficionados for its spectacularly remote gompas, colourful yak caravans and dramatic high desert scenery.
For an off-the-map adventure, the ultimate goal for fans of Peter Matthiessen's The Snow Leopard is Shey Gompa, where an insanely remote trek continues to the gompas of Saldang, Namgung and Yangtser, across the roof of Nepal, from Shey Gompa to Jomsom.
You'll need to join a group for this challenging expedition-style trek.
7. Kanchenjunga
Little-visited eastern Himalaya is wetter, lusher and more forested than the west. The star is the world's third tallest peak, a huge massif of summits on the Indian border.
Offering a fine mix of village life and high alpine splendour, this incredibly varied trek is for connoisseurs who don't mind the long travel times or a camping-style trek, though simple teahouses now line most of the route.
Budget a month to combine the northern and southern approach routes into one of Nepal's most epic adventures.
8. Around Manaslu
A challenger to Everest and Annapurna, this epic 16-day walk circles around the world's eighth highest peak.
Before the 2015 earthquake, this was a teahouse classic; while rebuilding is underway, camping may be the only way to go. But either way, expect fantastic scenery, lots of exciting side trips and a dramatic high pass crossing.
The heart of the walk is the Tibetan region of Nupri, long considered a baeyul (hidden Himalayan valley). Throw in the option of a weeklong detour to the neighbouring Tsum Valley and you have one of Nepal's most exciting trekking regions.
9. Phoksumdo Lake via Do Tarap
This camping trek in Nepal's wild west involves ascending the barren Tarap gorge to the Trans-Himalayan villages, Tibetan monasteries and unique chortens (stupas) of Do Tarap village.
From here it's a simply mind-blowing three days of achingly beautiful wilderness, before reaching the shores of Phoksumdo Lake, Nepal's most beautiful lake. Dotted with Bön monasteries, it's one of Nepal's hidden gems.
Better still, avoid the domestic flight and trek in on the superb and little-walked Beni to Dolpo trek.